An Exciting Edition of VOLTA Basel 2018 is Upon Us!
After a successful show in New York earlier this year, VOLTA is now returning to Basel for a strong 14th edition. Taking place this June, the art fair for new international positions will be concurrent with Art Basel Week 2018.
Founded in 2005 as a collaboration between dealers and friends, the aim of the fair was to secure a platform for international galleries beyond young art stalwart Liste and market heavyweight Art Basel. Due to the eclectic and dynamic presentations with a strong focus on solo shows, VOLTA Basel has become one of the most important international art fairs in the world.
Celebrated as "a space for discovery", VOLTA Basel 2018 will welcome 75 galleries across five continents to the former COOP distribution center near Novartis Campus and Voltaplatz. As Amanda Coulson, VOLTA Artistic Director explains, over the last 14 years, the fair has been continuously evolving and reinventing its shape, consistently moving forward and exploring new terrains and positions.
For this latest edition, we expect nothing less than spectacular.
VOLTA Basel 2018 Exhibitors
As a globally conscious fair for artistic discovery, VOLTA 13 will welcome 75 galleries from five continents.
Be sure not to miss booths by MARS Gallery from Windsor, exhibiting and promotes Australian artists; SCAG from Vienna, whose international program focuses on contemporary issues; Galerie Anhava from Helsinki, focusing on contemporary Finnish and Nordic art with an active role at the international level; Galerie Charlot from Paris and Tel Aviv, focusing on the relation between art, technology and science; Yavuz Gallery from Singapore; and The Hole from New York, focusing on emerging art and thematic group exhibitions; among others.
The List of Exhibitors
Galleries:
MARS Gallery (Windsor)
Hilger BrotKunsthalle (Vienna)
SCAG (Vienna)
Patrick Mikhail (Montreal/Ottawa)
Galerie Youn (Montreal)
Martin Asbaek Gallery (Copenhagen)
V1 Gallery (Copenhagen)
Galerie Anhava (Helsinki)
Galerie Charlot (Paris / Tel Aviv)
Galerie Dukan (Paris / Leipzig)
Galerie Ma¥a Muller (Paris)
Galerie Thomas Fuchs (Stuttgart)
Galerie Anja Knoess (Cologne)
Magic Beans (Berlin)
Rutger Brandt Gallery (Amsterdam)
Janknegt Gallery (Laren)
NL=US (Rotterdam)
Ten Haaf Projects (Amsterdam)
Anca Poterasu Gallery (Bucharest)
Zorzini F Gallery (Bucharest)
Yavuz Gallery (Singapore)
Soda Gallery (Bratislava)
Zahorian & Van Espen (Bratislava/Prague)
Barnard Gallery (Cape Town)
Gallery H.A.N. (Seoul)
Gallery Lee & Bae (Busan)
Victor Lope Arte Contemoranea (Barcelona)
Set Espai dÍart (Valencia)
Christian Marx Galerie (Dusseldorf)
Galerie Heike Strelow (Frankfurt am Main)
AD Gallery (Athens)
Affinity Art Gallery (Hong Kong)
Gibbons & Nicholas (Dublin)
Green On Red Gallery (Dublin)
Galleria Bianconi (Milan)
Maurizio Caldirola Arte Contemporanea (Monza)
Alessandro Casciaro (Bolzano)
E3 Arte Contemporanea (Brescia)
The Flat _ Massimo Carasi (Milan)
Galleria Doris Ghetta (Ortisei)
Galleria Anna Marra (Rome)
Montoro12 Contemporary (Rome / Brussels)
Privateview (Turin)
Galleria Paola Verrengia (Salerno)
JAPAN Cohju Contemporary Art (Kyoto)
Gallery Kogure (Tokyo / New York)
Island Japan (Tokyo)
Tezukayama Gallery (Osaka)
WAITINGROOM (Tokyo)
YOD Gallery (Osaka)
LATVIA Gallery Bastejs (Riga)
Richard Koh Fine Art (Kuala Lumpur)
Galerie Steinsland Berliner (Stockholm)
Galleri Flach (Stockholm)
Le Salon Vert (Carouge)
Primae Noctis (Lugano)
Galerie Wenger (Zurich)
Nunu Fine Art (Taipei)
Mironova Gallery (Kiev)
Voloshyn Gallery (Kiev)
Arusha Gallery (Edinburgh)
Charlie Smith London (London)
Coates & Scarry (London)
Fiumano Clase (London / Gothenburg)
Patrick Heide Contemporary Art (London)
Vane (Newcastle Upon Tyne)
Ethan Cohen Fine Art (New York / Beacon)
frosch&portmann (New York)
The Hole (New York)
PabloÍs Birthday (New York)
REM Project (San Juan)
RoFa Projects (Potomac)
Unix Gallery (New York)
VIETNAM Vin Gallery (Ho Chi Minh City)
Solo Artist Projects and Dual-Artist Dialogues
In the 2018 edition, half of the positions will feature 20 solo artist projects and 20 dual-artist dialogues.
The highlights of solo presentations include Jorma Puranen presented by Galerie Anhava from Helsinki, a conceptual photography pioneer and celebrated vanguard of the Helsinki School; Malala Andrialavidrazana presented by Alessandro Casciaro from Bolzano, the Paris-based Malagasy artist whose re-appropriated precolonial maps encourage cultural centering and global connectivity; and Jaco van Schalkwyk presented by Barnard Gallery from Cape Town, who present Nemora, an enveloping forest installation that reflects both Paradise and the peril of over-industrialization; among others.
Highlights from the 20 dual-artist booths at VOLTA include a reflection on art as activism presented by AD Gallery from Athens, featuring Manuel Ocampo and Mihael Milunovic; an interface of digital and physical realities implemented by SCAG from Vienna, featuring Christiane Peschek and Julian Palacz; and a cross-generational celebration of an artist's handwork at Tezukayama Gallery from Osaka, starring Moriyuki Kuwabara and Yoshiyuki Ooe.
Thematic Exhibitions
The other half of VOLTA exhibitors explore a variety of thematic concepts and material surveys through group presentations.
Some of the highlights are Tables Pots and Plants – A Song for Matisse presented by V1 Gallery from Copenhagen as a love-letter to the still-life, The Hierarchy of Scale presented by Charlie Smith London, shedding light on the classical power imbued in artworks miniature and monumental, and an exhibition by Primae Noctis from Lugano that showcases distinct local tradition and sociopolitical concerns across the African continent.
The Location of VOLTA Basel 2018
Practical Information
VOLTA Basel 2018 will take place at the former COOP distribution center at Elsässerstrasse 215 in Basel from June 11th until June 16th, 2018.
The Preview with a Guest of Honor will be held on Monday, June 11th, from 10 a.m. to 12 p.m., the VIP and Press Preview will be held from 12 to 2 p.m., and the Public Vernissage will take place from 2 to 7 p.m. The doors of the fair will be open to the public from 10 a.m. to 7 p.m. from Tuesday to Friday and from 10 a.m. to 9 p.m. on Saturday.
For more information, visit the official website of the fair.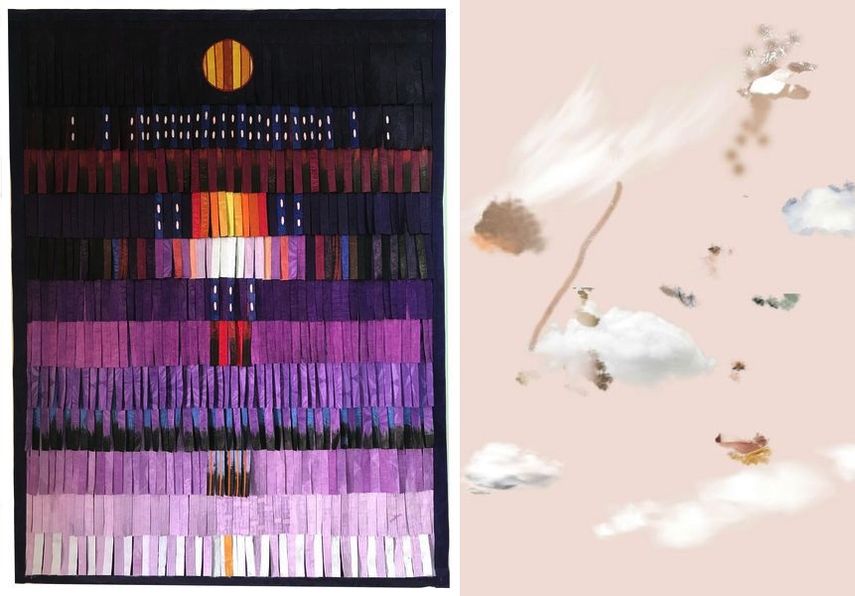 Featured images: Martin Asbæk Gallery (Copenhagen), presenting Paul McDevitt and Des Hughes; center: Richard Koh Fine Art (Kuala Lumpur), presenting Yeoh Choo Kuan, Hasanul Isyraf Idris, and Anne Samat; and Robert Henry Contemporary (Brooklyn), presenting Pancho Westendarp; and YOD Gallery (Osaka), featuring Masakazu Fujiwara; Drone flight, VOLTA13 at Markthalle from above. All images courtesy of VOLTA Basel.